Lessons from Philip Kotler, a master of modern marketing
[05-03-2012]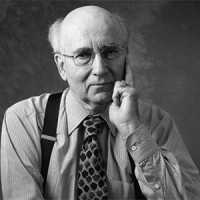 If one were to give someone the title of father of modern marketing, Philip Kotler's name would probably in all pools.
Born in Chicago in 1931, Kotler is an economist and professor at Northwestern University in Illinois.
Throughout his long career, Professor Kotler has set in modern marketing, becoming obligatory reference for all professionals in this discipline.
Then collect some of the marketing lessons of the "master" Kotler:

1. Marketing is the sharing of experiences.

2. The marketing can be learned in a day, but unfortunately it takes to master the whole way.

3. If the mark does a good job in identifying consumer needs, developing an appropriate product, price, distribution and promotion, the sale is actually very simple.

4. The art of marketing is the art of building brands. If you are not a brand, you're a goods and then the only winner is the one that produces at lower cost.

5. The key to building a brand is to have something good and develop it wisely.

6. Marketing is the art of creating genuine value for the customer.

7. Integrated marketing is a way to examine the overall process of marketing from the consumer point of view.

8. Authentic marketing is not the art of selling what you make but knowing what you do.

9. Brands influence demand by building appropriate products, attractive and easily accessible to the target audience.

9. The smart brands do not sell products, sell benefits packages.

10. Examine the life cycle of the market is more important to examine the product life cycle.

11. There are selling value, not the price of the product.

12. A good brand meets need, a great brand creates markets.

13. The brand work is to raise to consumers. If they become too predictable, fail to fulfill this function.

14. Who should ultimately design the product? The client, of course.

15. The best advertising is to make customers happy.

16. Today you have to run faster to stay in the same place.

17. Customers buy the company from his point of view, offers the highest value delivered to the customer.

18. The future is not coming. Has arrived.

19. Poor companies shirking their competitors, companies copied plenty of competitors, the winners are leading the way to its competitors.

20. Marketing is becoming a battle based more on information on power sales.
Source: www.marketingdirecto.com