BoD Philosophy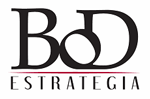 Our name, BoD, was born using the name of the functional organism responsible of defining the strategy in the organisations: Board of Directors, the Council of Direction of the Companies.
BoD Strategy transfers and communicate its values and philosophy in our corporate identity across the rounded lines of our logo, which not only give an idea of global solutions but they break with the most strict styles of the traditional consultancy.
This corporate presence together with basic colors and clean lines transmits the seriousness and commitment of our work.